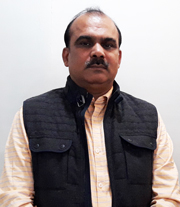 As the chairman, it gives me immense pleasure to lead a group that has achieved so much in the first few years of its establishment itself. We began the operation as a small time ITI, B.Ed. College, Rice Mill Transport and Tractor Dealership in Aurangabad and today under our umbrella we have various companies in different industries. Since inception, we have invested significantly in infrastructure, people, commercial partnerships and relationships.
RNP Group is not just a company, it is a deep rooted, futuristic movement grounded on trust and transparency. We believe in being the change we want to see and hence all our initiatives are focused on bringing concrete and constructive change, in the lives of our customers, in the growth of our employees and in the society in general.
We at RNP Group envision ourselves as a vibrant enterprise, ceaselessly seeking and embracing new frontiers and providing quality options at a fair price and Quality Education. You are a part of our world and all this is going to be possible only with your trust and encouragement.
We do not intend RNP Group Ventures to be just a company providing Transport and Institution. But we intend to be participant and support providers. We intend to be the trustful and the reliable. We wanted to be an organisation that you can rely for bringing the most beneficial and value for money opportunity. A growth opportunity which is based on trust and transparency and meaningful partnerships.